Never rocked any Bape,No BBC or nothing.....nothing against it just not my twist. That said I can tell you I have immense admiration and appreciation for Nigo. Any time you pull something out of your brain and make it go from idea to solid matter I give it up. Dude is definitely a Winner and an inspiration.........................................................pick the brain. Bathing Ape is 15 years in the game.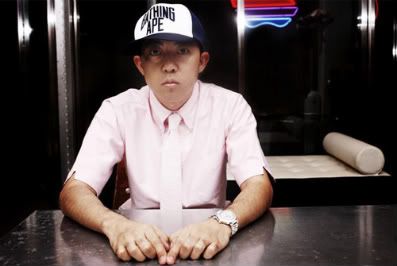 Some thoughts he shared...... from COMPLEX
We used to sell to something like 40 different stores in Japan… But around 1998, I decided to just cut back to our one store in Tokyo. It didn't take long until the sales from one store were as good as when we sold throughout the country. That made me realize that this was something bigger than I had imagined.
I don't think our clothes are so expensive; we make things in a very similar system to high-fashion designers… But we are interested in casual clothes. People get our jeans, tees and sweats confused with mass-produced consumer items. We respect the spirit of what we want to do over financial considerations—that's consistent with our motto, I think.
I sort of fell out of touch with hip-hop… But the thing that got me enthusiastic about it again in the late '90s was the South, especially Cash Money. So, Lil Wayne wearing the clothes I had made was amazing. I am very pleased if he is known for wearing Bape.
I have a girlfriend, and we have been together for about three years. She is a well-known actress in Japan [Riho Makise], and people are aware of the relationship… But she has her own career, and I don't want to interfere in that. So, there is a conscious decision to avoid being seen together in public too often.
I never read blogs. So, I don't even hear the criticism about us doing Nike take-offs. I'd like to say that other brands doing Bape knockoffs shows that the brand is recognized and desired… But in reality, it's really annoying to have to deal with it.
AND SOMETHING FROM TIME Magazine Asia
Nigo never set out to become Japan's hottest fashion designer or an internationally famous arbiter of style, or to show young people how to rebel without losing their cool. But the fact that he is now one of the most influential movers and shakers of his generation—given how little attention he paid to cram schools, university examinations and the meticulous career planning that are still adolescent obsessions in Japan—does not strike him as particularly odd, either. In fact, he sees his focus on his passions, rather than on society's expectations, as the secret of his success. "I never planned too far ahead," says the 33-year-old, wearing a T shirt and jeans plus two necklaces and a giant watch dripping with hip-hop quantities of bling. "I just tried to do what I love and create the things that I wanted to create."
And what he has always loved to create is clothes. As a fashion student, magazine stylist and DJ in 1990s Tokyo, Nigo could never find exactly the quality-crafted, cooler-than-thou T shirts he and his buddies craved. So he started making them himself, selling them to friends and out of duffel bags at parties and DJ shows. The shirts were strange but playful, aggressively designed affairs, frequently sporting simian motifs and obscure echoes of the 1968 sci-fi classic movie Planet of the Apes. Produced in limited quantities, they quickly became the ultimate badge of street cred among the hipsters in the back alleys of Tokyo's fashion-obsessed Harajuku neighborhood.
Since then, Nigo has carefully nurtured his label, A Bathing Ape, into a cultural phenomenon by striking a fine balance between exclusivity and mass appeal. His grow-slow approach has enabled him to retain 100% ownership and total artistic control of the company, which now has interests in not just clothing and accessories but also music, art, cafés and hairstyling. Although his signature ape heads and camouflage patterns have appeared on everything from action figures and trucker hats to condoms and Pepsi bottles, the core fashion lines still come in tightly controlled production runs and are sold almost exclusively in Bathing Ape's own hard-to-find, frequently unmarked stores. When devotees do locate a shop, they are often greeted by lines around the block just to get in and subjected to limits on the number of pieces they can buy. Says Japanese neopop painter Takashi Murakami: "One of the things that makes him attractive is the sense of mystery he creates." This mystique has bestowed cachet on Nigo's clothes and accessories even among some of the West's coolest celebrities, ranging from New York City graffiti artist Futura 2000 to British hip-hop legend James Lavelle to the Beastie Boys. "Nigo is by far the biggest icon of Japanese fashion," says Jun Nemoto, fashion editor at the Japanese edition of GQ. "He's got an amazing aesthetic."
Success has transformed Nigo, who will launch a Bathing Ape store in New York City's SoHo district by next spring, into one of Japan's most potent symbols of a new entrepreneurial spirit and an inspiration to young dreamers seeking the courage to strike out on their own in a society where nonconformity is still disdained. But his role as a model, he says, is purely accidental. "I'm happy if I can be a positive encouragement to others to do what they want to do," says Nigo. Indeed, he sees the passionately led life as the key to business success and personal fulfillment. "For me, there is no boundary between fun and work," he says. "I guess I 'work' all the time, but I do not consider it work. I am having too much fun." Not just him, but his growing legions of devotees too.