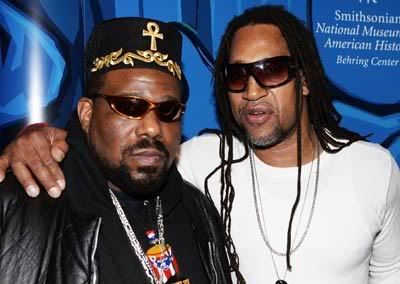 I had a convo the other day about the entertainment industry offering no real job security. We see people like Patti Labelle and Tina Turner in their 70's and 80's still touring and doing shows to have some income and maintain their lifestyle. In HipHop we don't really have any 50 and 60 year old rappers still doing tours and maintaining their images. The whole gist of HipHop is to shine and show the people how fresh you are and how rich you are. A rapper don't work no day job, they do records and get their "millions" from the art, but do they really?
As you all know, a million dollars isn't what it once was. If you purchase a home and a few cars and jewels your money is significantly dwindled. It's one of the reasons we see so many broke and starving mc;s who we all thought were doing sooo well. It's like if you're an mc you can't work. You can't let anyone see you "a star" getting a day job to supplement your income. You would rather be bankrupt and poor than have your illusion dissappear. I think that as kids we looked up to rappers and ballplayers as the ultimate alternative to 9 to 5 jobs our parents had. It was a "we'll" live our culture and have fun and be rich mindstate. This is doing an injustice to the kids today who need to realize that rap money is nothing more than just a supplemental income or money to invest or a savings account. It is not money to fall back on and act like "that's it" we got 250 thousand and can retire.
We also need to realize that the culture is aging and we really don't have any examples of what rap retirement looks like. We don't know what the outcome is yet for our culture. How are the people monetarily? Will they have to put out albums and tour forever to live comfortably later in life? Is this a viable occupation that we should have kids looking up to and taking seriously?
Understand that you are only as good as your last hit, if you ever get one. That ringtone money gets taxed and more times than not the people managing your money are in it for their check and don't care about you being broke. Look at the NBA or NFL for instance. I read a stat that something like 60% go broke some yrs after they leave the league. This is because their income stops and they are still spending the same as they were. Without properly investing your dollars they are sure to leave you. I know this is a lil rantish, but it's something I've been thinking about lately, now that we're all getting older. Where do rappers go when they grow up?
Nas-35
Jay-z-39
50 cent-32
Nelly-34
Snoop Dogg-37
Shawty Lo-37
Busta Rhymes-35
Fat Joe-38
Cam'ron-33
Jim Jones-33
Freekey Zekey-34
Ludacris-32
Common-37
Ice Cube-39
Tony Yayo-31
Eminem-36
Royce Da 5'9-31
Rick Ross-33
Plies-32
Dj Khaled(real name- Khaled Khaled)- 33
Jadakiss-34
Styles P-34
Beanie Sigel-34
Jeezy-31
Fabolous-31
Chingy-31
Kanye-31
Clipse-32 & 34