Yup, its been a hell of a weekend so far. Went to Arts Beats and Lyrics, my homie Dubelyoos' jump off Friday night hosted by Gentleman Jack Daniels.....got my real grown man on. Not really tilted but a nice slush. Wifey on the other hand got towed down. Had a blast man, saw some good art and ended up being on 1. Only thing is that I come to the realization that we aint real compatible with folks like that. Our viewpoints are a lil worldly so it's hard to feign interest in topical bullshit. Just noting it, but we realized that when we rolls out it aint easy to gel, maybe it comes from a lack of faith and trust in folk, dunno.
Yesterday was a big red X day cuz I aint do too much, rolled out the crib mid-late afternoon and ran into Smiff and Wessun and chopped it up wit them for a few.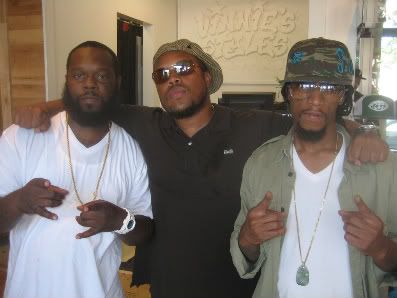 Tehy was hanging out by Vinnie's Styles and getting ready to do a show later that night. I ain't make it but I have seen these cats numerous times over the years, they get busy...plus they have my No.1 Tree burning anthem album Dah Shinin".
Went home from running around and walk in to the smell of home cooked food and beef on the internets. Krazy....tho I had a feeling in the gut that something would go down. I think Buddens is aiight and have always felt that way. Never was above avg. to me personally, but he has some joints. The problem lies in the slick talk. It doesnt matter what you say in the comfort of your club house around your peeps or how hard u wanna make yourself out to be online, when real street dudes get involved all that shit goes out the window. Now I know the beef was squashed, but I also noticed that son was still talking slick after the fact about Deck and Rae and still saying that he had a subliminal diss to Mef on the slaughthouse album. My thing is this: why keep running your jibs if the beef is over? why publicize that u may have taken shots(subliminal at that)? why even put that energy out there? I know why, to save face for having apologized for some some shit that shouldn't have even gone there. Now the real embarrassment comes, because I was watching the aftermath of what happened and it was some shaking, a little crying, a little bit of wound licking and a whole lot of whining and dry snitching. Now this is what i be talking about being Live in this internet era. If you think you are Live, let the people tell it like they did back in the day thru word of mouth, not you "pretending" to be a live dude for youtube. The thing is that when cards get pulled there is no way around it. Yes, the internet soldier die hards is gonna say it was pussy for Rae to go over there with multiple people, but at the end of the day, if you rolling with 4 cats that you came with and been rolling with all day and you find out where son is to talk to him, it aint pussy for them to roll with you, because you could be in the room with 30 people and he rolls in with 4 to confront you. People all have their biases and will spin it any kind of way to defend an artist they have invested a gig f space to on their computer and have defended in the multiple beefs. I understand. The L came from the horses own mouth for behaving a lil tender in front of the cam for an hour after the event occurred.